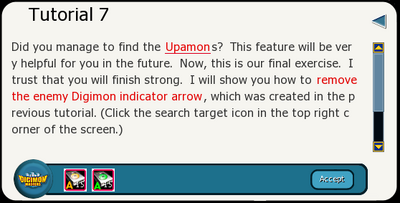 Details
Did you manage to find the Upamons?
This feature will be very helpful for you in the future.
Now, this is our final exercise.
I trust that you will finish strong.
I will show you how to remove the enemy Digimon indicator arrow, which was created in the previous tutorial.
(Click the search target icon in the top right corner of the scren.)
Reward/s
15 HP Disk A, 15 DS Disk A
Ad blocker interference detected!
Wikia is a free-to-use site that makes money from advertising. We have a modified experience for viewers using ad blockers

Wikia is not accessible if you've made further modifications. Remove the custom ad blocker rule(s) and the page will load as expected.