Goblimon is an Oni Digimon whose name and design is derived from the mythological Goblin. It loves to do bad things, and has a sly and hard personality. It is said that it never disobeys a strong tamer. It has great pride in the mohawk on its head.
Digivolves
Goblimon digivolves to Ogremon at level 11.
Goblimon digivolves to Etemon at level 25.
Goblimon digivolves to MetalEtemon at level 41.
Goblimon digivolves to KingEtemon at level 65 (with the Great King Suit).
Attacks
Hatching
This Digimon, with its hair groomed daily in the Mohawk style, carries a giant club. It favors ambush, but, when the fight seems to be going downhill, it runs away in the blink of an eye. It ultimately evolves into MetalEtemon.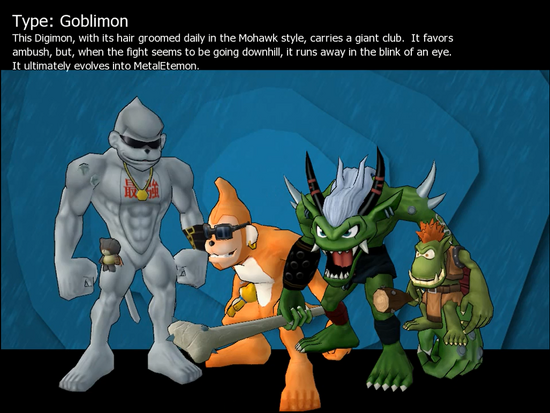 Ad blocker interference detected!
Wikia is a free-to-use site that makes money from advertising. We have a modified experience for viewers using ad blockers

Wikia is not accessible if you've made further modifications. Remove the custom ad blocker rule(s) and the page will load as expected.