Gazimon were the servants of Etemon who loved his awful singing and operated his Dark Network and other grunt work. One seemed to have a pair of sunglasses like his. When Etemon was supposedly killed after the fight with MetalGreymon, that Gazimon and another one plotted revenge against the DigiDestined but decided not to, since they had never liked Etemon. The two ate the mushrooms of forgetfulness. It resembles a feline (felidae)-rabbit hybrid. Though a quadruped by nature, Gazimon can stand upright.
Digivolves
Gazimon digivolves to Gulfmon  at level 41.
Attacks
Hatching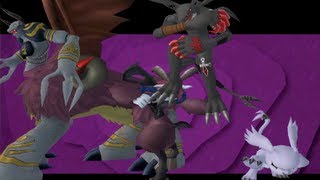 Ad blocker interference detected!
Wikia is a free-to-use site that makes money from advertising. We have a modified experience for viewers using ad blockers

Wikia is not accessible if you've made further modifications. Remove the custom ad blocker rule(s) and the page will load as expected.