Digimon are the creatures that make up the Digital World. They come in all shapes and sizes and have various strengths and weaknesses.
In-game Digimon
In this game you will come across three types of digimon.
Starter Digimon:
These are the Digimon you get upon creating a character and starting the game. Choose wisely, you won't be able to find these Digimon anywhere in the game.</span>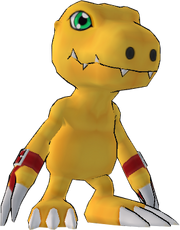 Wild Digimon:
These Digimon Roam the digital world. You can freely attack these digimon, and some will attack you unprovoked, so be careful in your attacking choices. It's best to only fight Digimon within 3 levels of your own. Anymore than that could get you killed.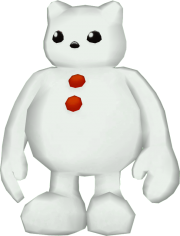 Once in a while wild Digimon drop Mercenary Eggs, which gives you the chance at hatching a brand new Digimon of your own. Click here for the list of available Mercenary Digimon so far.
Attributes:
(from the Digimon Wikia )
Most Digimon species are classified into five attributes—Data, Vaccine, Virus, Free, and Variable. Most Digimon fall into the first three categories, with "Free" being rarer and "Variable" exclusive to Hybrid Digimon. Some Digimon either have their attributed by unidentified or lack them entirely. The main three attributes have a Rock, Paper, Scissors arrangement where Virus is generally advantaged against Data, Data is advantaged against Vaccine and Vaccine is advantaged against Virus. However, these attributes don't play a very important role in Digimon fights. A Digimon can generally defeat an opponent regardless of attribute if it is stronger than the opponent in Digivolution level and experience.
Subcategories
This category has the following 8 subcategories, out of 8 total.
Pages in category "Digimon"
The following 200 pages are in this category, out of 396 total.
A

B

C

C cont.

D

E

F

G

G cont.

H

I

J

K
Media in category "Digimon"
The following 3 files are in this category, out of 3 total.
Ad blocker interference detected!
Wikia is a free-to-use site that makes money from advertising. We have a modified experience for viewers using ad blockers

Wikia is not accessible if you've made further modifications. Remove the custom ad blocker rule(s) and the page will load as expected.