BlackMetalGarurumon is a MetalGarurumon  which evolved to become Virus attributed. It is armed with cold-air type weapons in its body and laser sights to help it to detect its prey. A fearsome Digimon, it fires missiles at anybody, regardless of friend or foe.
Digivolves
BlackGarurumon digivolves from BlackGabumon at level 11
BlackGarurumon digivolves to BlackWereGarurumon  at level 25
BlackGarurumon digivolves to BlackMetalGarurumon at level 41
Attacks
Garuru Tomahawk
Cocytus Breath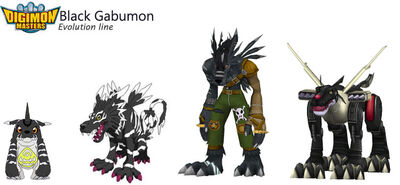 Ad blocker interference detected!
Wikia is a free-to-use site that makes money from advertising. We have a modified experience for viewers using ad blockers

Wikia is not accessible if you've made further modifications. Remove the custom ad blocker rule(s) and the page will load as expected.